Hello fiends,
I'm pleased to announce our new limited edition Dr. Sawbones t-shirt. The front is a re-imagining of our long gone tote bag depicting the chance meeting of a lady and a gentleman in a dark alleyway. If you look closely, their shadows show the man's true identity and foreshadow the woman's frightening future as well as the Victorian silhouette portraits on the sides. The back depicts the Doctor's family crest with a single gold tooth adoring the skull of an unfortunate "experiment".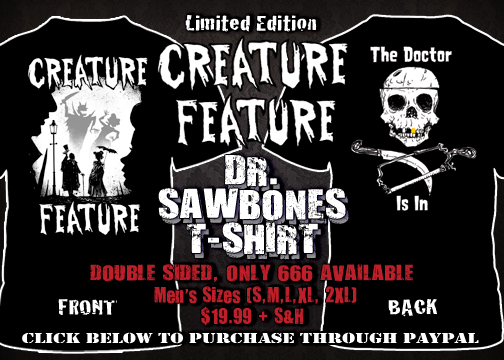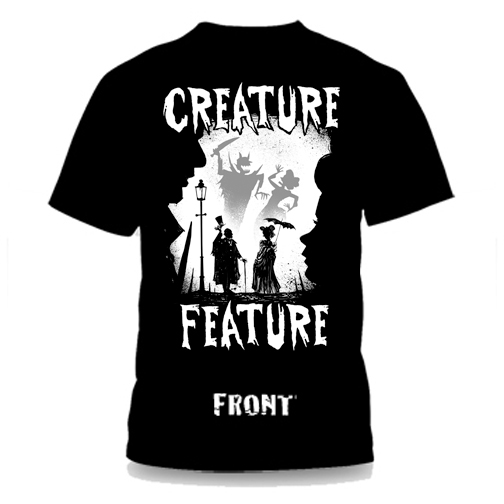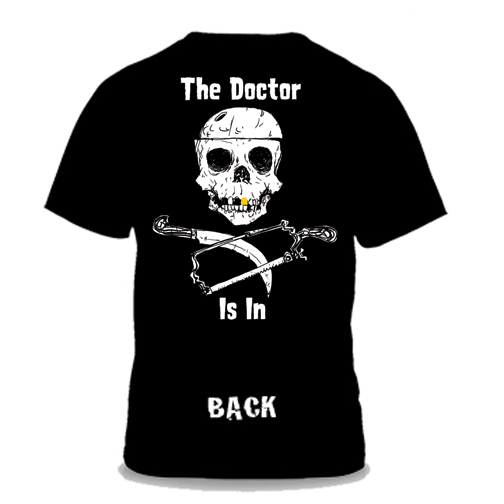 The shirt is double sided and limited to only 666 pieces. They are $19.99 (plus shipping & handling) and come in mens sizes: Small, Medium, Large, X-large, & 2X). Artwork by the amazing Thomas Boatwright. This is a pre-order and will be shipping out the first week of February. Click the links below to order your shirt today through Paypal.
UPDATE: 2XL IS NOW SOLD OUT!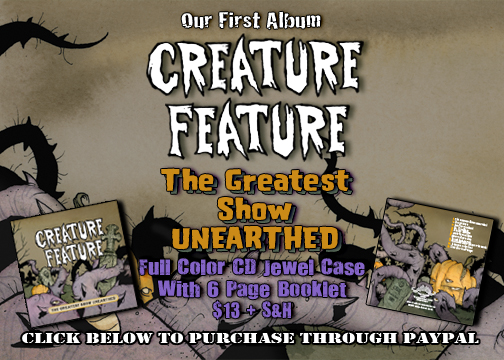 In celebration of our upcoming tour, we now have our first album 'The Greatest Show Unearthed' back in stock in our online store. If you've been wanting a copy and couldn't find one, now's your chance to pick one up. The CD comes in a standard jewel case with a full color six page booklet (Artwork by Gris Grimly) for $13 plus S&H ($2.99 within the US, $4.99 International). Click the Paypal links below to order yours today, if you would like to order by cash through the mail, then please send us an e-mail at creaturefeaturemusic@gmail.com
Click Here To Order Within The US

Click Here To Order Outside The US
Stay weird,
~Curtis Rx